Looking for a place to get the latest haircut done without burning a hole through your pockets? Dreaming about feeling like a celebrity or...
Looking for a place to get the latest haircut done without burning a hole through your pockets? Dreaming about feeling like a celebrity or a rock star with a haircut that will turn heads? Want to walk out of a salon with a strut and swagger with your head held up high because you know you like a million dollars (without spending that much obviously)? So how much does it cost for a haircut at Supercuts. The price starts at $14 and can go up depending on if you add more services to your cut such as shampoo, blow drying, etc. You will find all Supercuts prices below.
Supercuts Prices
SuperCuts Haircut Prices

Haircut
$14
Haircut with shampoo
$18
Haircut with shampoo and blow dry starting at
$25
Kids 12 and under haircut
$12
Adults 60 and over haircut
$12
Shampoo
$6
Blow dry and style starting at
$12
Condition treatment starting at
$10
Beard and bang trim
$6
Tea tree special shampoo
$10
Supercuts Hair Color

Highlights starting at
$35
Glazing starting at
$45
Tips starting at
$25
Supercuts Waxing Prices

Lip Waxing
$6
Eyebrows waxing
$8
Chin waxing
$6
Please note, prices may vary from location to location but they should be very close to what we have above.
Supercuts FAQ
How much is a haircut at Supercuts ?
Supercuts haircut price starts at $14 and can go up if you add shampoo and hair drying. See full list of Supercuts prices above.
Does Supercuts have a senior discount?
Yes seniors age 60 and above receive a $2 discount on every haircut. Supercuts senior haircut price starts at $12.
Does Supercuts take walk ins?
Yes
What time does Supercuts open?
Supercuts usually opens at 9am or 10am.
What time does Supercuts close?
8pm.
Does supercuts do hair color?
Yes supercuts does haircolor services such as highlights, glazing, and tips. See prices for supercuts haircolor above.
Do you tip at Supercuts?
Tipping at Supercuts is not a requirement but if you think your stylist did a good job tipping $2-$3 is a nice way to let them know they are doing a great job.
More about Supercuts
The stylists at Supercuts have a flair for creativity and are well trained in precision hair-cutting.  Thus you can be guaranteed that no two haircuts or styles at Supercuts will look alike. What's more, affordable Supercuts haircut prices will let you choose the exact haircut you want in a style most suitable for your facial features without breaking the bank.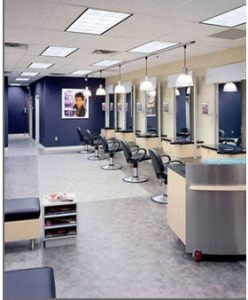 The haircut you get needs maintenance to have a lasting glamorous, rock star-esque look doesn't it? This is why Supercuts sells high quality hair products from brands such as Nioxin, its A 10, Paul Mitchell, Redken and much more, all at Supercuts prices.
Want your loved ones to share the glam look too? Supercuts Gift Card can be gifted with a personal touch for any occasion in a price range of $10 to $500. For just $4.50 dollars the Supercuts Card Online can be sent to anyone who you feel deserves to stand out in a crowd and be a head turner.
What more could you say about the reasonable price tag when SuperCuts haircut prices for adults is just $12.00, $10.00 for children 10 years old and under, and a senior citizen discount at  $10.00 for adults 65 years old and over.
Life tends to be mundane when your entire focus is on haircuts, thus, when the team at SuperCuts aren't too occupied with cutting and styling great hair, they sponsor blues rock bands like Vintage Trouble or give out a unique and affordable Tea Tree service at wonderful SuperCuts prices. This service is all inclusive of a shampoo that makes your scalp rejoice with its tea tree shampoo, a neck and head massage to rejuvenate you, and a warm soft towel to give a cozy and comfy feeling.
For more information about SuperCuts and to find a location near you CLICK HERE